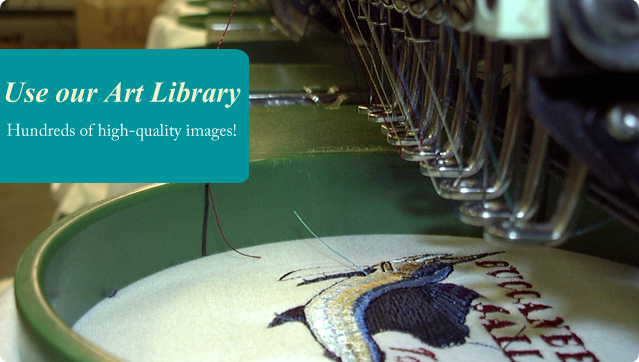 Get Ideas for your Next Design
You know what you want on your shirts and cups. But sometimes you don't know how you want it. Or, you aren't happy with the way you've laid out your creation.
Don't worry, we're here to help!
Over the years we have created, tweaked, and laid-out tons of designs for customers. We know what really seems to pop and what kind of things just don't cut it. Now we're here to share our tips with you!
Past Work
View our gallery for past work examples:
Layout Tips
Decide if you're doing just a boat name or including a port.
This is important, as the size/space you need for both is different. Also, having a hailing port can sometimes round out a design's balance than if you left it out.


Don't clutter your design.
If you add too many elements, it can make the whole image become muddled. The best designs are the simple ones.


Manage your space well.
You don't want to put your text too close to your artwork (unless there is an intentional reason, like you're trying to bleed one into the other). However, your words can't be floating away, eithe! A half-inch to three-quarters of an inch is good for most back designs, with less for pockets.


Follow color theory.
Certain colors compliment each other better than other combinations. For example: blue and gold are complimentary, just as red and green work well together as well. Don't forget to keep the shirt or object color in consideration as well. This isn't a hard rule, just a guideline to keep in mind.


Less is more.
As touched on above, but more important with colors. The less colors you have, the more each piece stands out. Not only that, but less colors means more money saved!


Be careful about what you're printing on.
What works as a design for the back of a T-Shirt usually isn't as effective as a pocket design. Also, don't assume a white background! If what you are printing on isn't white, then nothing will be unless you decide on adding a white base (additional color). This is the same for colors. Printing yellow on a green shirt won't show up the same way as if you added a white base behind it first. Keep this in mind when pricing and ordering.